Welcome to the official website of Roslea Shamrocks GFC! We are a proud, progressive and successful club situated in South Fermanagh.
Founded in 1888 Roslea Shamrocks is one of the oldest clubs in County Fermanagh. Since then Roslea Shamrocks has provided a sporting outlet for generations of the youth of our parish. We are a vibrant club who are committed to progressing both on and off the pitch. Over the years numerous county titles have been achieved.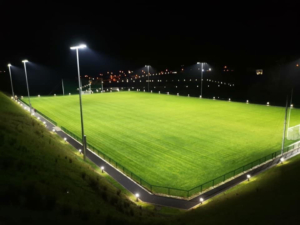 Meanwhile, outside our facilities and infrastructure have been transformed with the addition of a fully seated stand, a second full size Prunty Pitch with match standard floodlighting and a fully lit walking trail; which stretches to 1.2km around our grounds. A lift for disabled access has also recently been added to the Complex building.
Future progressive plans are in place for a full renovation of the Complex, which as a club, we are constantly working towards. Our success has been achieved as a result of strong community support in every way and we hope this trend continues. Community is at the heart of everything we do. At Roslea Shamrocks GFC, we constantly strive towards bettering our community and providing positivity and a lifeline for the future of our village.
Our website is updated regularly with posts relating to on-going activities and events. Please also follow our social media accounts to keep up to date with the latest fixtures, results, news, lotto and any ongoing developments in the club.