Cairde Seamróga Ros Laith was formed in early 2013 by a group of individuals who had the interest of the club and its future development at heart. It is a body that, while it is independent of the club in its structure and governance, dedicates itself to fundraising through various activities, for Roslea Shamrocks. This fundraising supports various infrastructure development initiatives, helps the club offset the day-to-day expenses of fielding teams and also supports the work that is being undertaken on coaching and games development for our youth.
Why do we do it ?
Cairde Seamróga Ros Liath is crucial to the survival of Roslea Shamrocks GFC. We exist solely to drive the GAA and its value to the community, forward in Roslea. That's what is important to us, to our club's players and to our club's supporters.
Roslea is important to us because it is our place, where we come from and it is home to our people.
Roslea Shamrocks is important to us as it gives us a sense of identity, pride in our place and it adds so much to the life of the community and our people.
It is important because it's about who we are and where we're from.
It is important because of the sporting and social outlet it provides locally.
It is important because it is inclusive, progressive and it cherishes every part of what the GAA is about.
Above all it is important because we believe in what we are doing and we have both the confidence to set high targets and then the commitment and energy to work hard to achieve them.
Development Plans
We spent some time engaging with the club membership and the local community generally through the holding of workshops, issuing of surveys etc. to establish what it was that they required from the club by way of facilities provision. We co-ordinated the responses and it was obvious when all the different strands were combined together we needed to create a community Health & Well Being Hub –
Why ?
• It will ensure we have facilities that can be used by whole community
• It will make best use of available club lands
• It will ensure we are best placed to achieve any Agency funding available
To move that to the next stage we pulled together a co-ordinated plan and engaged Architects to commit this to drawings etc to come up with the Masterplan
What did that look like?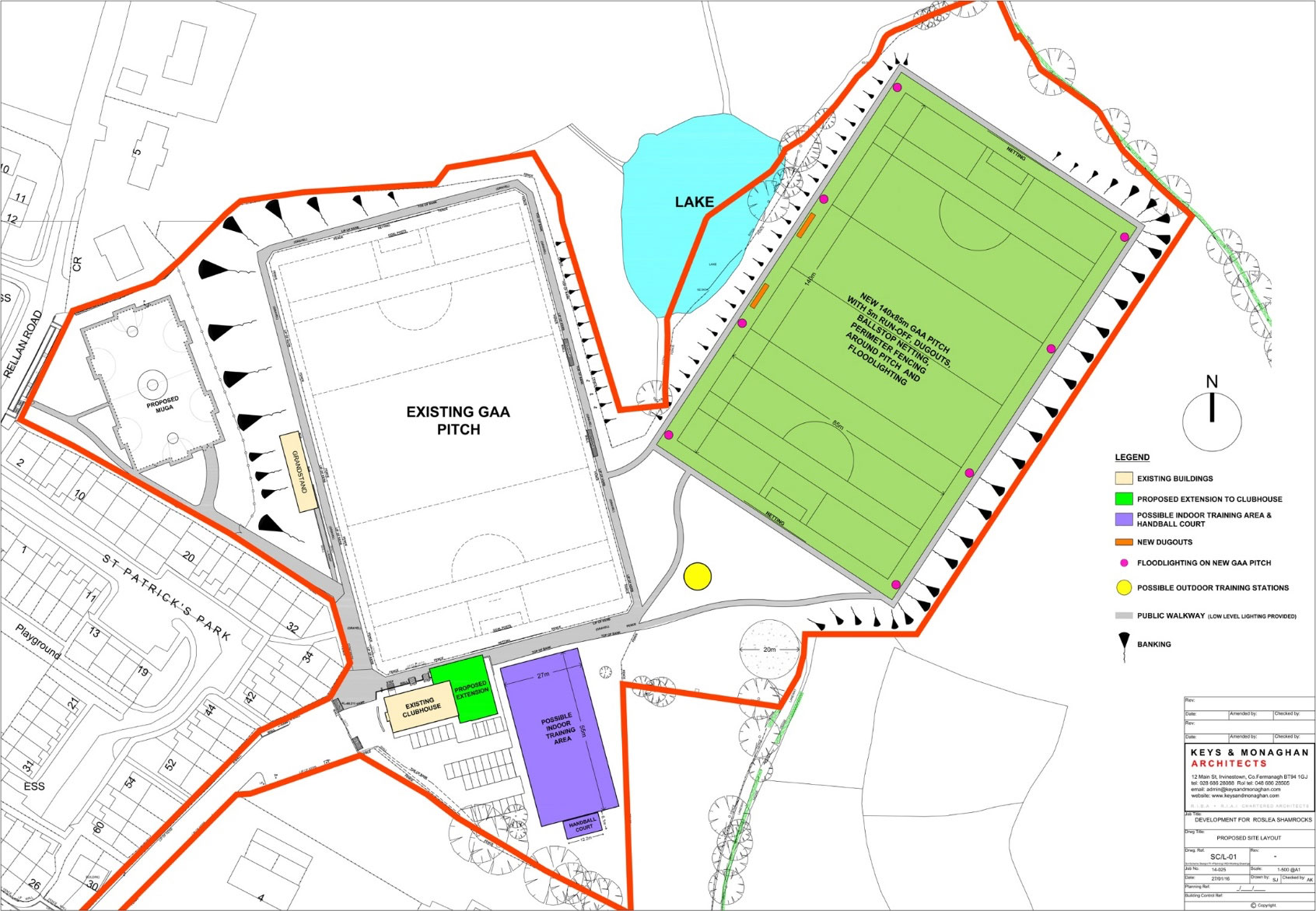 What we hoped to achieve ultimately was broken down into several phases so that we could more forward a stage at a time and fundraise accordingly.
The Journey so Far …..
Phase 1.
Build a New Spectator Stand with a capacity of 215, complete with ancillary works (i.e relocation of Dug outs etc)
Phase 2.
Complete Entrance walling and installation of Electronic gates
Kerb and Tarmac surface and line entrance laneway
Provision of Street Lighting for entrance laneway
Complete all associated landscaping
Phase 3.
Provide a floodlit pathway suitable for a walking trail around the perimeter of our grounds
Secure land and develop a full size Sand Carpet pitch, perimeter fenced and complete with match standard floodlighting
Phase 4.
Provide an additional floodlit pathway and walking trail around new pitch
Provide an internal lift to facilitate disabled access to first floor of Complex complete with realignment and refurbishment of Kitchen area.
Phase 5.
Provide a 50m x 30m fully fenced and floodlit games area, complete with 3G playing surface.
Phase 6.
Re-vamp/Extension to existing Complex building to include –
Larger function room area with sub-dividable partitions
Additional Meeting/Consultation rooms
Purpose built kitchen and bar areas
Re-location of Gym area
Additional storage facilities
Re-site of Main entrance